Grass I.D. Gone a-Rye
by Shane Gibson, Environmental Education Director
Header photo: Japanese stiltgrass at Sycamore's Latimer Preserve in 2010
Prior to my work at Sycamore Land Trust, I worked for Eco Logic LLC, a native plant restoration company based out of Bloomington, Indiana. At Eco Logic, I worked alongside some of the best botanists I've ever met, and those co-workers had worked alongside some of the best botanists in the state of Indiana. I already had experience in identifying plants and had plant knowledge likely beyond the average person.  One of these co-workers said to me early in the growing season after I had asked about a specific plant, "Even the best botanists I know have trouble distinguishing all the grasses until the flowers (or seed heads) are present."
Identifying grasses can be a tricky endeavor for those that work with plants on a daily basis, steward the land as a profession, or study plants and utilize native plants in their landscape. Maximizing or enhancing the native plant community should include the goal of removing non-native species. Knowing the difference between native and non-native species is incredibly important.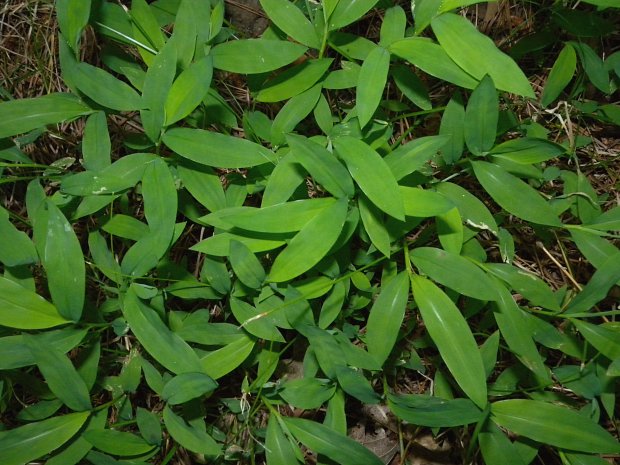 In recent years, a grass in the spotlight has been Japanese stiltgrass, a non-native, invasive plant (shown in right photo from illinoiswildflowers.info). Stiltgrass is a target species for removal. Japanese stiltgrass has been a featured plant in articles on all media formats, thus the public has an increased awareness of its problematic presence. This increased awareness has led people who care for the land to want to help remove it. However, as mentioned previously, grasses can be tricky to identify, even for the professionals.
In September, at the end of stiltgrass season, a volunteer found large patches of native grasses pulled up by the roots and left to die at Sycamore's Canyon Forest Nature Preserve. We assume this was a well-intended task that had gone awry. Given the trickiness of grass identification, it is likely that people misidentified a native grass as Japanese stiltgrass and pulled the native plants.
It is crucial to have 100% positive ID on your targeted species before removal. And if you find a suspected invasive plant at a Sycamore nature preserve, state park, or other public property, you must check with the land manager before taking action. We can confirm species identification before plants are removed, and we need to keep track of invasive plant problems for future follow-up,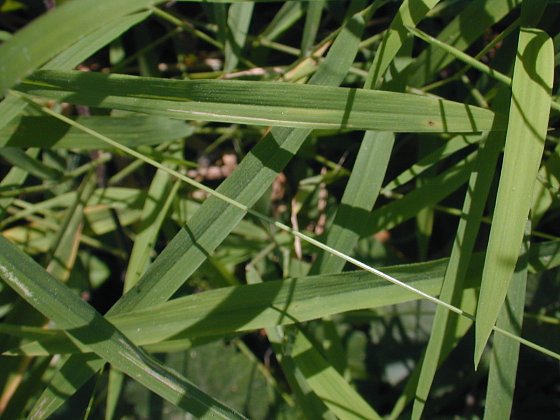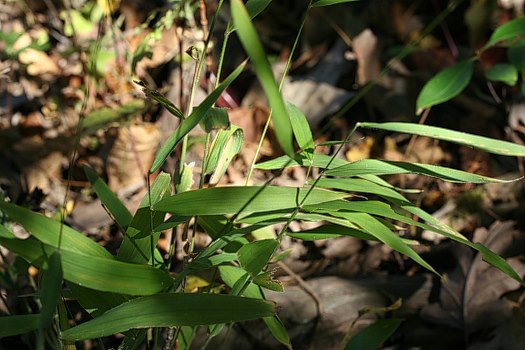 Native White Grass (left) and Native Long-Awned Wood Grass (right), illinoiswildflowers.info
Be sure you know your plants, any regional regulations for plant removal on public lands, and that you have permission before removing any natural items. In this way, we can all better educate ourselves and collaborate to protect and restore our southern Indiana landscape.
Here is just one resource to help you distinguish between native and look-alike non-native species: www.nybg.org/files/scientists/rnaczi/Mistaken_Identity_Final.pdf